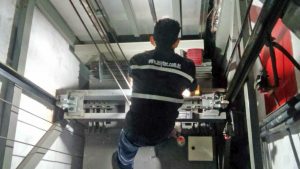 Nobody messed with Marcelo Espinal. The elevator technician was the terror of Turubamba, a barrio on the southern side of Quito, Ecuador. Deep in his heart, however, Marcelo wished for something better, something happier.
Then about two years ago his son, Danny, began to follow Jesus. Danny quit drinking and became more peaceful. Enviously, Marcelo observed the changes in his son's life, and wished he and the rest of his family could have that same peace.
Danny began taking a training at his church called MC2. Right from the start, the training encouraged him to gather a group of friends or relatives, explain the gospel, and begin a small group in one of their homes. So Danny gathered several family members to watch a movie, after which he explained the gospel through an evangelistic booklet called the Four Spiritual Laws. Marcelo trusted Christ that night, as did several other family members. When Danny asked his father if he could host a small group Bible study, Marcelo was happy to do so.
Marcelo began to change, and others noticed. "I was hard as rock," says Marcelo. "People can't believe the change in me. The neighbors think that if I can change, anybody can change." The man with the heart of stone began to soften, and found a peacefulness growing in his heart. "When Danny began the group," he says, "the gospel came to my house that day."
"The MC2 training is simple and practical," comments Neftalí Chacha, a Cru staff member who pastors the church attended by the Espinal family. As a result of the training, his church has begun 15 new home groups spread over two generations of multiplication. "In the next five years," concludes Neftalí, "we want to plant 35 new churches in five new regions of the country."