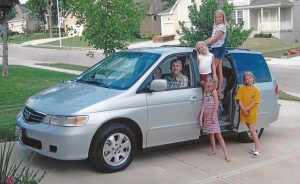 It was the summer of 2003. We just purchased our first "family" vehicle and drove from California to Colorado to attend a Cru training conference. You would never know from the picture that this was day 3 of our trip with a stop in Kansas City to visit family.
That was not the last trip we made across the country or many other places to visit ministry partners like you, attend conferences or various activities with our daughters. Now 15 years later, this van has come to its end with over 310,000 miles of memories.
It was really just an instrument God used to bring our family together. Like making the girls sit in the back row holding hands if they got into a fight. Or Mike and a two of the girls driving to Missouri on their own. Or one of them posting a sign in the window that read, "My sister threw up and I am stuck in here."
Perhaps you have things as well to which you have attached memories of what God has done. It is not the dents, dings and repairs that we remember but the relationships connected to those events that are so precious.
Our van's last voyage was a month ago when we drove from Florida to Chicago to move our oldest into an apartment in preparation for graduate school. I guess the mechanic who repaired the radiator was not far off when he said, "I wouldn't drive this car on a long trip, but if you do then stay on the bus routes 'cause you will need them."