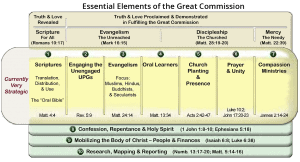 Great companies and great leaders are driven by a clear compelling vision, and they know the progress they have made toward its achievement. For the body of Christ this is the Great Commission. Throughout the world today, pastors, mission leaders, and laymen are working towards the day when every person on earth will have access to the Gospel of Jesus Christ. There are movements to reach every people group, to finish the task of world evangelization, and to work toward the worship of our God by every people throughout the world.
Mike's role over the past 4 years has been to help measure the progress that the global missions community is making in the area of church planting and presence. There are many ministries and denominations that are establishing churches around the world, therefore a collaborative effort is essential. We are currently piloting an effort to share information among 7 large global organizations. This will be done in the mapping system that we have been developing called iShare.
This pilot project is already producing expanded collaboration with other groups on understanding where the church still needs to be established. This will inform mission organizations around the world on related efforts like evangelism, prayer, scripture engagement and compassion outreaches.
God is moving today! No one can take any credit for what He is doing. If we will keep our hearts warm toward Him, and seek to walk daily in dependence upon His Holy Spirit,perhaps in our generation, disciples will be made in every nation. And, people everywhere throughout the earth will know of the love and forgiveness of our Lord.