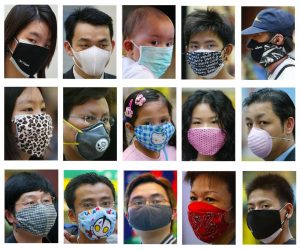 In one Asian country, our staff members, together with partnering churches and disciples, have launched a strategy of distributing 1 million face masks to reach 1 million people for Christ. They are working with a ministry partner who has direct contact with a company that produces face masks.
Each mask is distributed with an evangelistic booklet and a note that says, "If you would like to have true peace, please visit these websites." The three websites have videos, messages, music, and articles to help point the recipients to Christ. One of the sites contains the "JESUS" film in the local language.
After one week, they had given away 700,000 face masks across the country. This initiative brought unexpected results. Since the government had ordered everyone to wear face masks when they leave their homes, the local people saw that Christians were concerned for them by providing this necessity. Some people shed tears when they were approached, as they felt valued and cared for. Plus, this initiative has helped ease restrictions for the church planters and disciples involved, because the authorities saw that the Christians were helping the communities. To date, 850,000 facemasks and booklets have been distributed through 805 churches in 63 provinces or cities in this highly secure country.
What a remarkable example of reaching as many people as possible in a way that the current crisis makes possible. It shows the commitment of our staff members to help fulfill the Great Commission. As you know, that is at the core of what God called us to do. From the original, graphic vision God gave Bill Bright in 1951, we know God brought us into being to be a part of getting the gospel to the entire world.