Our fourth daughter, Audrey, graduated from the University of Florida with her Bachelor of Science degree in Advertising from the College of Journalism and Communications. Her last semester was mostly online and no official commencement ceremony will be held at the school. However we want to invite you to our own private graduation ceremony to be broadcast on Youtube on Saturday, May 9 at 2pm (Eastern).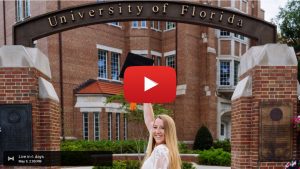 Audrey will move home while she continues to interview for positions and does freelance advertising work. She has been working for several small companies and ministries. One of her senior projects was used by Fox Sports as the basis for a ad campaign for the Super Bowl.
We are so proud of her trust in God and hard work. We know God will use these unique circumstances to utilize Audrey's adaptive nature and creative leadership personality.