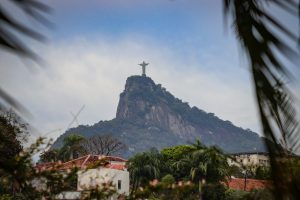 All across Latin America churches, denominations and organizations are finding that working together extends the Kingdom of God farther and faster than any one group can do alone.
The Global Alliance for Church Multiplication (GACX), founded back in 2011, enables different organizations to network together, take advantage of each other's strengths, and experience rapid multiplication of churches. Our church ministry, called GCM, for example, can provide training. Another organization might have plenty of workers, but they need training. Yet another may have Bible study materials, while a fourth may offer humanitarian aid. By working together, these groups can make a powerful impact on a community.
While the original GACX meeting had a global scope, in recent years regional groups have been springing up. In Latin America, the regional GACX grew from 11 organizations a year ago to 22 organizations now, with 50 leaders gathering last month in Rio de Janeiro.
The sprawling metropolis of Rio, resting in the shadow of the famed Christ the Redeemer statue, seemed an apt location for the conference, as this year's theme emphasized the need to reach cities. "Some 80 percent of the population of Latin America lives in cities," pointed out Andres Garza of City to City, "but 70 percent of evangelical churches are not in the cities." Participants discussed what this meant for the gospel, and how they could work together toward multiplying churches in cities.
By the end of the conference, they had defined their area of action as "global Latino," which is to say wherever Latinos live, and they had set up various "tables of responsibility" focusing on cities, youth, and children.
They also agreed to report results according to the report format developed by the GACX global forum, according to Jorge Elias Sanchez, Latin American director of Global Church Movements, thus enabling Latin America to better measure progress toward a church for every 1,000 people.
This Latino alliance reflects the broader GACX movement, which held its global forum in Denver, Colorado, last week.  More than 225 leaders from over 100 organizations gathered to learn, network and collaborate with other world leaders around a single vision – discipleship and church multiplication—so that everybody might know somebody who truly follows Jesus.