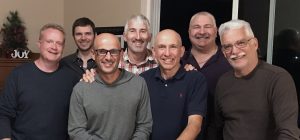 This is a picture of the six men from my neighborhood that have been doing a Bible Study with me twice a month. I started with two and they each invited others. We have a meal together and then study a passage. But mostly we are learning to be involved in the life of each other.
We decided that we wanted to move from a Bible study of learning to a training program of action. So now I am training them on how they can reach out to their non-Christian neighbors, friends, family and co-workers. We are using the church planter training material that our ministry uses around the world.
The first step was for each of them to make a commitment to tell someone about what they learned during our first session. Each one was assigned a partner from the group who will encourage to fulfill their action step during the week. It was great to see them leave that first evening and walk home by pairs in order to encourage one another to put into practice what we had learned.