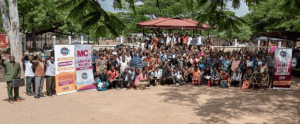 God has given Global Church Movements a breathtaking vision: Plant a church for every 1,000 people. With some 5 billion non-Christians in the world, this means we need at least five million new churches.  But a vision without a plan goes nowhere.
So GCM developed a simple but powerful training process known as MC2  which stands for "Multiplying Churches and Communities." This training drives our multiplication strategy throughout the globe, for it mobilizes and equips believers to reach out to the lost and start churches where none exist.
What makes the MC2 process so effective is five simple elements:
It's biblical. We learn to build movements by simply studying and applying what we learn in the Bible
It's relational.  We focus on reaching out through networks of relationships, through "People of Peace," and by sincerely investing in the lives of those we reach for Christ.
It's transferable. New believers and leaders can easily pass on what they are learning to others.
It's a group process. Through coaching and group training, one is never alone in his or her journey.