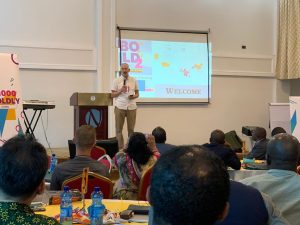 We just returned from Ethiopia where we gathered with 114 leaders from 37 countries. This was an alternate gathering for those who could not obtain visas to our gathering several months ago in Greece. As you can imagine, God had the whole thing under his sovereignty and plan. We had no issues with people obtaining the proper visas for travel and God did some unique things to enhance the vision for all those who attended.
The overall theme was "Boldly Move." The purpose was to encourage and prepare national leaders within the Cru movement who are involved in leading movements of establishing new churches in some of the hardest places. The Conference focused on daily: Boldly Go! Boldly Partner! Boldly Multiply! Boldly Mobilize! with a foundation of Boldly Pray!
BOLDLY GO!
The command is clear; God has already spoken and given the command to go – no need to wait for a Macedonian call but be obedient in going! To go to every Tribe, Tongue, People and Nations (TTPN) – no borders, no limitations.
BOLDLY PARTNER!
From god's triune nature, it is clear that partnership is the way to go! When we work together much more is achieved quickly.
BOLDLY MULTIPLY!
Thankful to God for the multiplication of trainings and centers; but there is need to faithfully trace and track multiplication progress of the communities of multiplying disciples. The need to empower center
BOLDLY Mobilize!
Intentionally develop new generations of leaders who are full of faith, grace and wisdom. Continue to diversifying and decentralizing leadership roles (geographic, gender, age, and culture) to cause movement growth.
BOLDLY PRAY!
Prayers is a continuous process in this – and there is need to continue emphasizing on concerted prayers all through; the 2020 prayer focus to continue and the weekly commitment by GCM Staff be encouraged and affirmed and the same be replicated in our regions.