For millions around the world, watching the JESUS film in their heart language provides a life-changing encounter with the living God who created them. We want everyone, everywhere to have that encounter—to know that Jesus speaks their language. We are committed to translating the story of Jesus into every language on Earth.
To that end, we have big news! God has allowed us to reach an amazing milestone. The JESUS film has been translated into its 2,000th language—the Zo language.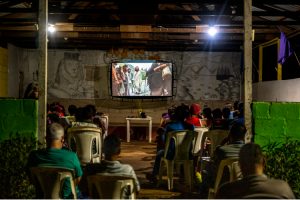 While every recording has a unique story, the story of the Zo translation represents God's faithfulness through the greatest challenges. Even during a global pandemic, we were able to complete this translation thanks especially to the vision, passion and partnership of Pastor Sing, an immigrant from Myanmar, who rallied the Zo community in the U.S. to translate and record the film. Now over 65,000 Zo speakers globally have access to the story of Jesus in an engaging, powerful way.
But this 2,000th translation is bigger than one people group: this translation proclaims that Jesus speaks the heart language of not only the Zo, but millions of other people around the world. And this is about more than just one film—our library of media including dozens of short films, feature films and film series, as well as resources like our digital app and portable equipment, all point to one goal: to help the watching world encounter Jesus.
For us, this milestone is just the beginning—we continue to record new translations even as we celebrate 2,000. We continue to produce new content to share the story of Jesus in unique ways, equip believers and plant churches. And we continue toward the goal of helping everyone, everywhere see Jesus.
This translation—and the thousand before it, and, Lord willing, the many to come after—would not be possible without your generous support and fervent prayers. Thank you for the role you are playing in helping millions around the world hear Jesus speak their language.