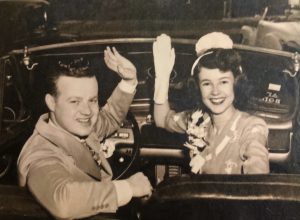 On February 1, 2021 Amy's Mom, Harriet Louise Habeck, breathed her last in this life and immediately entered into the presence of the Lord. She was 96 years old and lived a life of faithful service to Christ. Many neighborhood kids have their names written in the Book of Life after hearing Bible stories from Mrs Habeck. She devoted many hundreds of hours of prayer to her family and missionaries around the world.
It was not long after coming to faith as a recently married couple that Harriet and her husband Bruce started a Bible study in their home. This Bible study soon became a house church and they mentored many others to devote their lives to Christian service and sound teaching.
We had the joy and honor to have Harriet come to Florida for the past 10 winters and stay with us for 3 months each year. Additionally we have spent the last 6 months living with her in OH during the time she was on hospice care in her own home. One of the benefits of the pandemic is that all our work was done remotely, so we could really live anywhere.
Harriet's husband preceded her by 23 years. They both had a tremendous impact on our ministry. They encouraged us, prayed for us, supported us and "bragged" about us to all their friends. We are very confident that they are both filled with the joy of the Lord and humbly hearing the words of their Savior, "well done my good and faithful servants."
---
A memorial service will he held Friday, February 5 at Redmon Funeral Home. Calling hours are 11am to 1pm with a memorial service at 1pm. Or you may watch the memorial service online via YouTube.