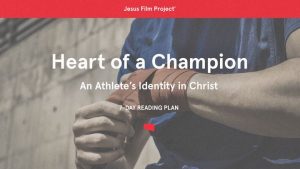 With the Tokyo Olympics happening this summer we wanted to share some great resources that can help you and those in your sphere of influence to grow in your faith! 
The first one is a prayer journey, which will send you on a virtual trip to 17 locations so you can pray effectively for those who will be competing in Tokyo. To get more info and to sign up for this "trip" go to The Global Prayer Journey. This resource is a collaborative effort by multiple ministries within Cru. We think it's a fantastic way to see the world!
And for all those who like to compete we recently finished our newest reading plan for YouVersion. The 7 day reading plan 
Heart of a Champion: An Athlete's Identity in God
 encourages athletes to be all that they can be while finding true self worth in how God sees them.
Now go and cheer for your favorite athlete!