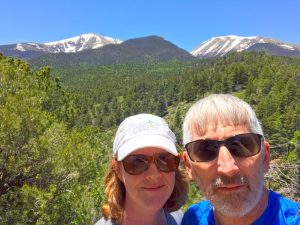 We spent 30 days in a personal retreat to deepen our walk with the Lord. The goal of our sabbatical was to disconnect from most of our ministry and living responsibilities so that we could reconnect with God and each other. We returned to a cabin in the mountains of Colorado where we had been in previous years because it is remote and we could disconnect from our phones and computers.
One of the realizations of our time was the joy of getting to know new people. Because we were not rushing to get tasks done or distracted by electronic media, we took the time to sit and listen to others. We realize that our interactions with others had become a task in and of itself, rather than seeing how God brings people across our path. Now the challenge is how to incorporate this lesson into our daily life.
Additionally, we spent time each day listening to God through His Word and prayer. We renewed our love for God and the ways He has built into our lives. Our time reminded us of how much we are in dependance of Him for all things – purpose, direction, motivation, opportunities and so much more.
If you return to the Almighty, you will be renewed.

 – Job 22:23