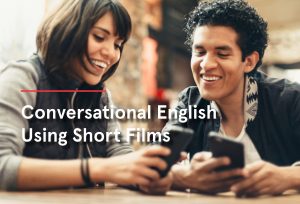 My team, Outreach Strategies, continues to adjust and adapt to the new reality as we push forward to create new tools and resources that work with Jesus Film media. It's pretty amazing that since March we have finished 3 new projects, almost entirely over zoom! To God be the glory!
I want to share one of those with you-Conversational English Using Short Films, can be used one on one or in small groups. So many have been displaced around the world, and these refugees and immigrants know that learning English can help to give them more opportunities. That's where this strategy comes in. Using short films and a series of simple questions and activities, you can reach out to those around you and have meaningful conversations that also meet a real need.
We have multiple teams at Jesus Film/Cru that can use this now over Zoom and are anxious to use it in person when travel begins again. Maybe you know a friend or neighbor that would benefit from this resource. Feel free to share it!
Thanks for praying for us as we continue to move projects forward, that we wouldn't be discouraged and that God would give us wisdom and discernment. We are currently working hard to finish up an additional 3 resources and would love to have them complete by January.