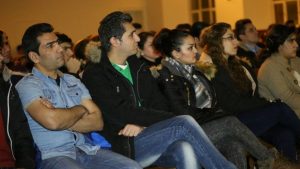 Elijah 21 is an organization reaching out with Christ's love, specifically to Muslim refugees in Europe.
Andrew*, director of Elijah 21, says, "We invite Muslim refugees at refugee camps to a church for a meal, to receive aid, and to see a movie about 'The Great Prophet Isa' (Jesus). We provide transportation from the camp and tell them there is no cost.
"Then we are always amazed. Nearly all the seats are filled, both on the buses to transport the refugees and in the churches. It works out nearly perfectly every time! Then the real miracles happen. Muslims typically attend with reluctance and suspicion. They have a distorted view of Christianity. Many have suffered the loss of everything. But when they enter, they are taken aback by our smiles and warmth. They enjoy a good meal at no cost. We explain the aid that is available. Then we show them the film JESUS, usually in three separate rooms for three languages: Arabic, Farsi, and Urdu.
"Then former Muslims come forward to speak and give testimonies. We also put out stacks of free Bibles. Most have never seen one, believing them to be corrupted. They often begin reading as soon as they can. Many volunteer their cell phone numbers so they can stay in contact and hear more about Christ. A number receive Christ at the showings.
"At one showing of JESUS, Chechens were present, with hate in their expressions. Another group of Afghan radicals–Islamic purists called Salifists–attended a showing. At each of those showings, several radicals raised their hands, saying they wanted to know more about Christ."
At one showing, a Moroccan refugee watched and believed. Speaking with fervor, he said, "Years ago, on a street in Italy, I found a VHS tape. It was this film, JESUS. I placed it in my tape player and began to watch. But I became uncomfortable. After 30 minutes, I took the tape out. But the film continued to play—even though I had removed the cassette! I got really scared. The only way I could get it to stop was to turn off the TV. I've never forgotten.
"But today, I have seen all the film, all of JESUS. I believe and have become a child of God. I want to learn everything I can about my new faith!"
The ministry worker who heard the man's declaration wrote, "This outreach will resonate in our hearts forever! Refugees cried, clapped their hands, and cheered. Jesus broke the yoke [of slavery] for so many Muslims that night. An imam also attended from Morocco, who watched and told us, 'You are very nice people; you have love.' This former leader of a mosque could not wait to read the New Testament in Arabic, cover to cover. He said, 'This is God's Word.'"