These are the beautiful and talented women I (Amy)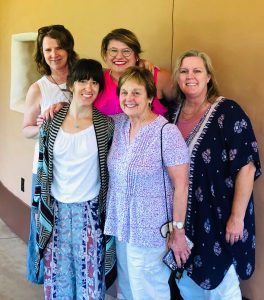 get to work with every day. They come from all over the country and have served Cru in many different capacities, from Campuses here in the US to quite a few different countries. Some have been in ministry for 10 years, some for 30 and even 40 years! What experience each woman brings to our team. Please pray that we will be able to work well together and that God will be glorified in all that we do.
This newly formed team is called "Outreach Strategies". We work specifically on creating new content to go with Jesus Film Project's media, and then pair that new resource with strategies that our staff can use all over the world. We aren't the only team working on strategy but when new content is needed or acquired then it starts with us.
Right now we are working on a total of 6 different projects! Some of them we can finish quickly and some will take 1-2 years to finish. Thank you for praying for us as we work to make tools that can help many know who Jesus is.
The big project I'm working on this year is an in-house short film contest for Cru Staff! I am having a blast working on this and I'm excited to see what kinds of short films our staff will produce. There are over 5000 staff in the US, so the possibilities are endless. And who knows better than our own staff what kind of media can be effective in their own fields. I believe this idea can be contextualized for our staff to use all over the world, and have already been working with our Canadian staff to help them set up something similar. Pray for me as I have So Many Details to work through. Pray that I learn how to rely on the Lord more each day.