We have all read about the horrors of the war in Ukraine. The staff members of Ukraine for Christ (as Cru is known in the country) have responded in different ways, depending on their circumstances and location. Vladyslav Voznyak, GCM leader in Ukraine, has sent us updates on what he and his team have been doing during these difficult days. The following is adapted from these reports.
Peace be upon you, dear friends in Christ!
Today this phrase is especially important and significant for each Ukrainian. On the morning of February 24, 2022, we were awakened by a phone call from the crisis committee of Ukraine for Christ, as well as by a rocket attack on the Kyiv airport. Since December 2021 our GCM team had been preparing for a possible crisis. For each GCM family we bought a medical kit, a flashlight, a radio with batteries and primus stoves for cooking. But we couldn't even imagine the scale of the invasion and the horrible consequences.
As of today, almost 12 million Ukrainians have been forced to flee their homes, with 7 million internally displaced and nearly 5 million leaving as refugees.
We didn't stop the ministry of Ukraine for Christ during these difficult times. All staff and volunteers have selflessly served the Ukrainian nation by preaching the gospel of Jesus Christ. Some have joined military forces, some serve in the Territorial Defense Forces, some deliver humanitarian assistance, some evacuate civilians from bombed cities, and some find accommodation for refugees.
Our Global Church Movements team is a part of this ministry. Here are some stories from the past weeks.
Our family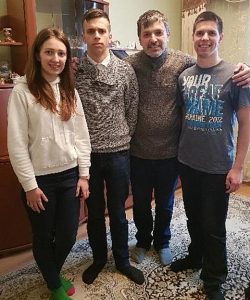 My daughter Anya and I were forced to evacuate from Kyiv to western Ukraine. Later my sons David and Yaroslav joined us from Dnipro. [Vlad's wife, Katya, passed away from cancer two years ago]. Anya and David moved to Poland, where they minister to refugees. Anya helps with "Hope for Ukraine," an online platform for preaching the gospel to Ukrainians fleeing their home. The first day after going live 30,000 Ukrainians visited the site.
Kharkiv
Another missionary has a ministry in the Kharkiv region. He spent the first days in the basement of his house with his family and neighbors. Between missile attacks he drove people to the railway station. It was horrible but also a very special time for sharing the gospel and for prayer. All the people in the shelter and everybody at the railway station took God's Word and prayed to God, he says.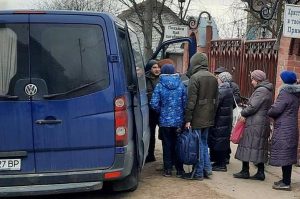 Then he moved closer to western Ukraine but didn't stop his ministry. He used his car to deliver food, water, medicine and petrol to Kharkiv, and he evacuated people to Poltava where it was safer. It was a manifestation of true courage and love of neighbor, in the midst of grief and suffering!
Dnipro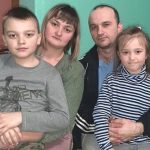 Since the beginning of the war, Dima and his wife Anya helped build defenses for their city. One day more than 200 people worked to build a military roadblock. At the end of the day, Dima and brother Anatoly asked the officer in charge if they could share their faith with the crowd. The officer agreed, so the two explained the gospel and led the crowd in saying the Lord's prayer.
Chernivtsi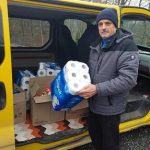 GCM has a big ministry team in Chernivtsi, near the Romanian border, where we serve Pastor Ivan. They take huge numbers of refugees from all corners of the country, and houses of Christian families become homes for people that need help. Pastor Ivan and many Christian families now live in outbuildings on mattresses, because they gave up their comfortable homes for families with children.
"We receive many calls from people looking for a safe place," says Pastor Ivan. "People come endlessly, we have served 1,000 people [as of March 19] and it is not the end. My team and I don't sleep more than two hours a night."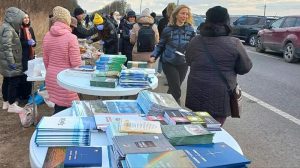 Furthermore Pastor Ivan always helps families waiting to cross the border. Volunteers offer hot tea, sandwiches and New Testaments for each person. Many people reject food but gladly take God's Word! "We are so thankful for your caring," said one woman waiting with her children to cross the border by car. "We have already waited nine hours and are very tired, but so impressed by your love for us. You take care of us even at night, even though we have never met before!"
My recent trip to Chernihiv
Recently another person from Ukraine for Christ and I took two minibuses filled with food, clothing and hygiene supplies to Chernihiv. Along the way we stayed in a village near Kyiv. That night we heard explosions, but the Ukrainian Air Defense neutralized the missiles. To get into Chernihiv we crossed a temporary bridge that allowed just one car to cross at a time, with a high risk—at the slightest turn of the steering wheel—of falling into the river.
We passed bombed out houses, the ruined stadium, the largest hotel in the city. It was depressing. But when we arrived at the House of Gospel Church in Chernihiv, 200 people waited for us. It began to rain, but people stood patiently in line.
We talked to the local team, and they said that through their ministry of caring for people, many had believed in Jesus Christ. Many Ukrainian soldiers in particular had come to believe in the Savior. "Thank you for bringing this food," said one of the sisters. "Every day 200 to 500 people come to our church, and our supplies are quickly exhausted. We work from morning to night helping people and telling them of our Savior!"
We evacuated three people from Chernihiv – Natalia and her daughters Irina and Tanya. They all work at the museum of the 19th century Ukrainian writer Mykhailo Kotsyubynsky, and are distant relatives of the famous man. They talked about how they survived the horrors of the blockade:
"Every day there are mortars fired at us, and we lived in the basement to save our lives. One day our neighbors were having dinner in their kitchen – a husband and wife and their daughter—and a missile hit their house. The house was completely destroyed. For 43 days we had no electricity, no heating and almost no water. We made food outside over a fire, cooking borscht over some bricks, even when missiles flew over our heads. We got so used to the shelling we almost didn't pay attention to it.
Thank you for praying!
Today in Ukraine everybody understands that the Lord is our only reliable support. Many people are turning to God and listening to the gospel of Jesus Christ.
Even so, it is difficult to convey in words all that fills my heart. Yet in this time of grief, ruin and despair, we look to the Lord, who sees everything, who controls everything, and who is able to stop this tragedy.
"I lift my eyes to the mountains. Where does my help come from? My help comes from the Lord, the Maker of heaven and earth (Psalms 120:1,2)."