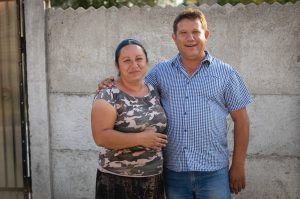 Daniel Osu felt discouraged. Sitting under a tree in his front yard in Craiova, Romania, he prayed, "Lord, I feel like You have nothing for me. I have no place in the church." He considered returning to his former life of drinking and gambling. And then he fell asleep.
Daniel, a Gypsy, as many in the Romani people group call themselves, and a new Christian, had recently told his pastor about Magdalena, a film about Christ's life told from the perspective of Mary Magdalene. Daniel wanted to show the film in nearby villages and then invite people to become Christians.
So Daniel and his wife, Zana, drove across town to his sister's house. Daniel's sister and brother-in-law agreed to gather their neighbors so Daniel could tell them about Jesus. When he finished, the neighbors asked Daniel to start a church and become their pastor.
That's when Daniel and Zana launched a six-year adventure of trusting God to plant churches. Eleven churches later, whole communities have witnessed the freedom Christ gives when their sins are forgiven.