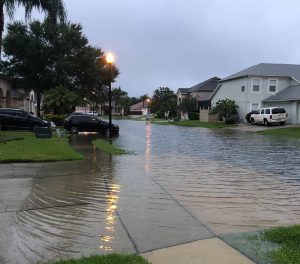 Even with all the advances in technology and weather prediction there is still a large amount of uncertainty about the path of storms.  Hurricane Ian passed directly over our house. A week prior we watched the forecast and felt calm because the forecast was for the storm to stay in the Gulf of Mexico and not dramatically impact our area. We were in North Carolina for a conference. But as the days progressed the storm path kept getting adjusted. We were scheduled to return to Orlando, Florida just before the winds and rain would start.
We decided that we would stay in NC because we have neighbors who will take care of our house, moving items off the back porch and checking the inside for leaks as the storm progressed. We were under the eye. Because Ian moved so quickly across Florida, the total rainfall was less than expected. We got 13″ over 30 hours but it would've been so much more if it moved as predicted. In the end we only had some minor water damage from rain getting around a window seal. Our home never lost power and no major trees were damaged.
We have co-workers whose cars and houses were flooded. There were neighborhoods around us where boats rescued people from their homes because they were trapped and water was coming into their homes. Of course, the Gulf Coast where Ian struck has been decimated. Amy's brother lives in Fort Meyers and it received the full brunt of the hurricane winds and waves. Please pray for the rescue efforts and the rebuilding. May God use this for His glory.
We have had other storms in our life the past few years. Small challenges and big ministry reorganizations. We cannot always predict the impact they will have on our current situation, but we have learned that regardless of the apparent impact we can trust God for how He will guide us and continue to fulfill His plans.