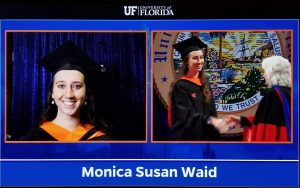 Our third daughter, Monica, graduated from the University of Florida with her Masters in Structural Engineering. This was a 5 year program combined with her undergraduate degree in Civil Engineering.
Monica will move three hours from home to West Palm Beach in March to begin working at a structural engineering firm where she has previously interned over two seperate summers. She is actively looking for housing and all that is involved with moving out from under her parents provision.
We are so proud of her trust in God and hard work. This continues a Waid legacy with Mike, his two brothers and his father all having Engineering degrees as well. She is enjoying two months of no exams or homework, plus Mom's cooking.