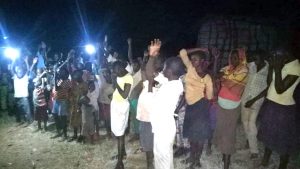 The JESUS film ministry takes our staff members into many unchurched areas. Several of these areas are known for witchcraft, and our staff must sometimes engage in spiritual battles in these places. Encompassing Lake Victoria and snow-capped mountains, Uganda is home to diverse wildlife—chimps and gorillas, hippos and more. The people of Uganda comprise more than 360 distinct tribes with diverse music and dance, art and handcraft, norms and ceremonies. Uganda's population is the youngest and fastest growing on Earth.
The JESUS film is an incredible tool for ministry. It powerfully and dramatically depicts the life of Christ and his atoning sacrifice on the cross. Our Uganda staff use this tool to minister to many of the villages. By showing the film in areas where watching a movie is anything but ordinary, our staff members are able to draw quite a crowd. After the movie, they come back the next day to help new believers grow in their faith and form a local church.
Several churches have grown up in areas reached by this ministry, and our staff continues to perform follow-up discipleship with new believers in conjunction with these churches. "Walking With Jesus" is a follow-up film series used to teach the basics of the Christian faith after a JESUS film showing.  Just last week, 190 people showed up the day after a JESUS film showing in the Kween district in Eastern Uganda. Pray for them as they plan to plant a church in this place.