A key element of the Global Church Movements strategy is Prayer Care Share.  In other words, a church planter prays for the area he is trying to reach as he cares for the people in some practical way and seeks opportunities to explain how they can know God. The following story illustrates the power of Prayer Care Share.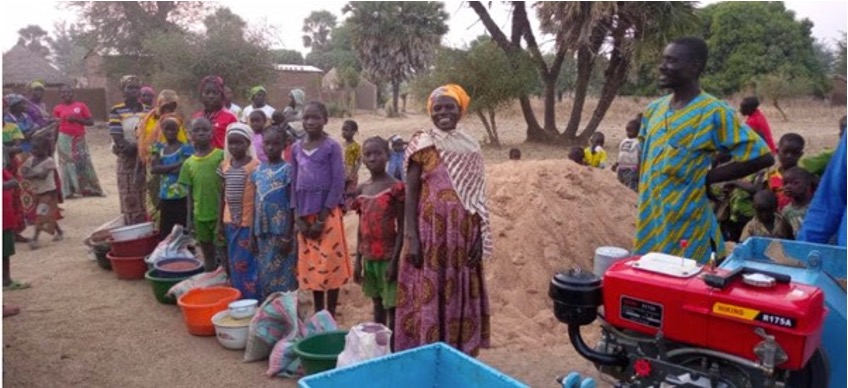 Church planters pushing into the missional gap face many challenges. The "missional gap," by definition, means a place where no Christian churches exist. So a church planter leaving his home for such a region needs a source of income. Also, such places are often quite remote, and local people distrust outsiders, especially those not of the local religion.
Recently in Sub-Saharan Africa a project has begun to overcome these challenges and show care for the local people. We are providing church-planters with grain-grinding mills. This provides a reason for the church planter to be in the village, gives them a sustainable source of local income, opens opportunities to share the gospel , and is a blessing to the village.
The project was pioneered in Chad, with such success that it was expanded into Cameroon where the diet is similar.
"At Ndoresou village, we arrived around 3:40 pm," reports Quentin Ngamo, GCM leader in Cameroon. "The timing was good as women and children were about to take the road to the grinding-mill house in the next village three kilometers away (almost two miles). As we unloaded the machine from the truck, a line of bags, jars and pots containing grain appeared, waiting for the machine to start grinding.
Quentin also tells the story of Laoudjongue village, where three women from another religion have come to Christ. "They used to pass through this village on their way to grind in the next village," says the local church planter. "The women heard about the grinding machine in our village, and they came. I then took the opportunity to share with them about Jesus Christ. All three committed to follow Jesus, and I will follow up with them as they come every week to grind their grain."
Now that Quentin has returned home, the mills will remain with the church planters, providing a small income as well as enabling them to continue to bless the villages and tell the people about God's love for them.