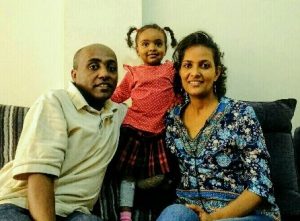 Last year our ministry in Ethiopia helped to start 302 churches and faith communities. We keep track of where these groups of believers are located and how they are doing over time. It is a complex process to keep up with all this information year after year. But God has raised up men like Leulseged to gather reports and enter this information into a tracking system.
Recently he shared how he came to know Christ.
I remember the first day I watched Jesus Film. It was 1975, if I am not mistaken. At that [time] I was a kid. The church became full of people who came to watch the film. In the middle of the film, where the soldiers is beating Jesus and pouring all the misery unto him, I felt pity [for] him and I cry why they are doing that on him. Thank you Jesus for this unfathomable love. You find me with this love while I was not looking for you. You revealed yourself to me while I was blind and couldn't understand. You taught me how to walk. You cradled me all the way since then.
Leulseged is a powerful reminder of how God calls each of us to serve Him.