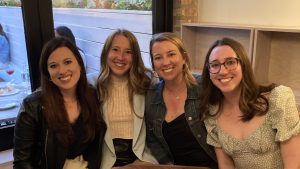 Many of you have asked for an update on our family. So this month I will give you a snapshot of our whereabouts.
Rachel (29 in Chicago, Illinois)
Rachel completed her Master's in Nursing two years ago and has been working at Northwestern Hospital. She likes working nights so she tends to cram her work week into 3 consecutive nights. This has given her some flexibility to visit friends and get involved with Bible studies and church. She enjoys gathering people and including others in activities. After several years of living with various girls she knew from her time serving with Navigators, she moved into the same apartment as her sister Jessica.
Jessica (27 in Chicago,Illinois)
Jessica completed her Master's in Education at the end of 2021. She has been assisting at a private Christian school for this past semester and will be an English teacher this coming school year in a Chicago-area school (going through various interviews with schools now). When she is not teaching she nannies. She loves living in the city and has an incredible heart to care for others.
Monica (26 in West Palm Beach, Florida)
Monica also has her Master's in Structural Engineering and continues her work in a firm in South Florida. She has been living on her own because it has been hard to find good rooming situations during the pandemic. But she has found a girl going to a local Christian university that seems to be a great fit, plus it lowers her rent considerably. She has also been able to get involved with a small group Bible study now that people are getting back together.
Audrey (24 in Denver, Colorado)
Audrey has been working for a large company in Colorado doing advertising and marketing for some of their startup divisions. She quickly rose to the awareness of the President and CEO who asked her to sit in on meetings. But after some reflection she realized she is not passionate about what they are selling so she is looking for other opportunities. She loves the outdoors and is either hiking or skiing every weekend.
Mike and Amy (young at heart in Orlando, Florida)
We love hosting people and outreaches in our home. It seems that there is always some event at our house or people staying in our now empty extra bedrooms. We also took advantage of the ongoing work-from-home environment by visiting family or Colorado, and opening our home to those who need it. This past two months we have allowed missionaries from Moldova to stay in our home who needed a break from all the Ukrainian refugee work.